About the Exhibition

Amidst the ongoing carnage in Iraq, Afghanistan, the Middle East, Chechnya, Columbia, and Sudan, the exhibition Afterwar – Lori Grinker's fifteen-year project to document the physical and psychological wounds that remain for the frontline war veterans of the last century – is available for exhibition. Comprised of fifty-one photographs, and excerpts from interviews that Grinker conducted with the men, women, and children who fought in conflicts from the Great War (1914-1918) to the most recent US-led deployment in Iraq, this timely exhibition seeks to illuminate our culture of war as measured in its human, personal toll.

With the exhibition and accompanying book Afterwar: Veterans From a World in Conflict, (de.MO, 2005) produced together with Contact Press Images, Grinker hopes to encourage viewers to reflect upon the complex social, economic, and political conditions behind these conflicts, and on the humanistic and philosophical aspects of war. If there is one thing Afterwar reveals, it is that all wars have a profoundly similar effect on their participants.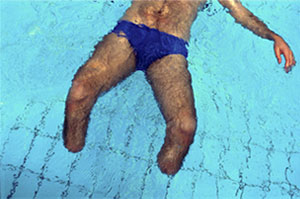 Dani Shimoni, Tel Aviv, Israel, 1995
It is not the politics of a particular war that most concerns Grinker, but "the history and our culture of warring that rages against humanity." As Lori Grinker states in the preface to
Afterwar
:
"Afterwar is not about the heroics of war, although many of the individuals photographed and interviewed for this book have done heroic things. Covering the entire range of combatants of the past one hundred years, across boundaries of culture, geography and time, this project is meant as a polyphony of voices revealing how people find themselves in war, what happens to them there, and the marks that remain when the fighting is over."