Programs

Lori Grinker and other participants in the project are available by invitation for openings, walk-throughs, lectures, panel discussions, seminars & symposia, and other cultural events. All honorariums and travel expenses are to be borne by the inviting venue.

Recent programs from the Afterwar project include:

Exhibition opening discussion
Fovea Editions, Beacon NY
Participants: Lori Grinker, Iraq War veteran Chris J McGurk, Vietnam War veteran Eugene O' Brian, Hudson Valley V.A psychologist Dr. Barbara Smith, and moderated by Dr. James Galvin Smith.
June 2007

Workshop
Minnesota Center of Photography, Minneapolis, MN
Making Stories Work with Lori Grinker and Kenneth Jarecke
November 2006

Lecture, Portfolio reviews
Indiana State University, Terre Haute, IN
September 2006

Panel discussion
American University School of Communication,
Washington, D.C.
"Reel Journalism": War Torn: Covering Conflict
Guests: Bruce Shapiro (moderator), Christian Frei, Bill Gentile, Scott Wallace & Lori Grinker.
March 2006

Slideshow presentation
International Society for Traumatic Stress Studies ( ISTSS)
21st annual conference
Toronto, Ontario, Canada
November 2005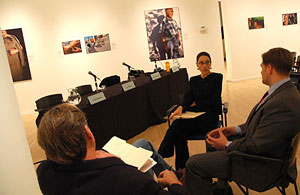 This project makes a significant contribution to our understanding of the high cost of war and the men, women, and children who suffer in it. Afterwar is one of the most compelling visual projects that I have seen on the subject of war and peace.

Bill Moyers
Broadcast journalist for PBS and former press secretary for President Lyndon Johnson.