Book Info

In lieu of an exhibition catalogue is the book:
AFTERWAR
Veterans From a World in Conflict
Photographs and interviews by Lori Grinker

Introduction by Chris Hedges
Edited with Robert Pledge
Texts with Jacques Menasche
Designed by Giorgio Baravalle
Publisher: de.MO, USA 2005

The book is divided into twenty-three chapters, each representing a specific conflict, and arranged in reverse chronology. Each chapter is preceded by a short background text on the history and causes of the war, followed by the photographs and interviews. Also included are detailed captions, and a timeline running throughout the book.

Specs:
Hardcover
Size: 21cm x 28cm (8.25" x 11")
248 pages
80 four-color photographs with accompanying text; map; and list of conflicts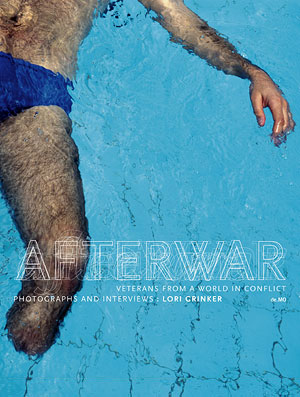 AFTERWAR, Veterans From a World in Conflict.
click here
The span and scope of war, of some of the recent sufferings that human beings have inflicted on one another; it is valuable to be reminded of this, as we are by these lucid, irrefutable pictures


Susan Sontag
Essayist and author of Regarding the Pain of Others (Farrar, Straus and Giroux)