About the Exhibition

Crime in Papua New Guinea's capital Port Morseby, in Oceania, is rampant. The city is plagued by a 60 percent unemployment rate and chronic poverty hence it's reputation as being one of the most dangerous places in the world. According to The Economist, the city is the least livable city on earth. Much of the violent crime - armed robbery, rape, and carjackings - is committed by young gang members known as "Raskols." In 2004, Stephen Dupont got access to a Raskol community to document the individuals behind the facelessness of gang warfare. Building trust over several visits Dupont was able to set up a makeshift studio in which to photograph his subjects. The resulting portraits depict the "Kips Kaboni" or "Red Devils," Papua New Guinea's oldest Raskol group.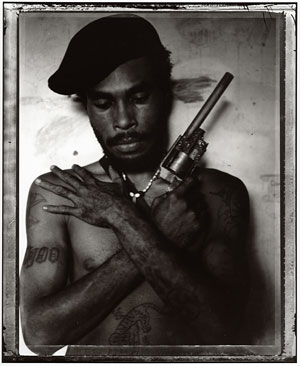 OMSY - Kips Kaboni Gang, Kaugere Settlement. January 2004.