The exhibition consists of thirty enlarged contact sheets printed as oversized hanging images. The contact sheets are supported by 30 "Icon" images corresponding directly to the contact sheets. The exhibition is supported by 42 single images, which represent a chronological photographic history from events covered since the inception of Contact Press Images.
30 Contact Sheets: 127 cm x 250 cm (50" x 98")
30 Icon Images: 50 cm x 60 cm (20" x 24")
42 Additional Images: 50 cm x 60 cm (20" x 24").

The exhibit packs into:
3 crates, roughly 28in x 28in x 28in, with wheels and handles for the single images. And 2-3 large tubes for the oversized contact sheets.

The exhibition requires linear spaces between 55-80 meters (180-260 feet). It also requires high cielings for the hanging contact sheets (15 feet minimum).
If printed locally, the exhibition can be tailored to the specific needs of a venue.
The Contact Sheets:

1976 Alon Reininger-Apartheid in South Africa
1977 Alon Reininger - New York City Blackout
1977 Matt Franjola - The Death of Steven Biko
1977 David Burnett - Sadat at the Pyramids
1978 Alon Reininger - Conflict in Lebanon
1979 David Burnett - Khomeini's Return to Iran
1979 Alon Reininger - Revolution in Nicaragua
1980 Alon Reininger - Violence in Jamaica
1980 Chuck Fishman - Poland's Lech Walesa
1984 David Burnett - Famine in Ethiopia
1984 Dilip Mehta - Bhopal Disaster in India
1990 Frank Fournier - AIDS Orphans in Romania
1990 Dilip Mehta-Child Labor in India
1990 Jane Evelyn Atwood - Jailed Women in Russia
1991 Kenneth Jarecke - The First Gulf War
1991 Partick Artinian - Iraqi Kurd Refugees
1992 Alexandra Avakian - Famine in Somalia
1993 Annie Leibovitz - Conflict in Sarajevo
1994 Alon Reininger - Mandela for President
1994 Annie Leibovitz - Genocide in Rwanda
1995 David Burnett - Peasants in Bolivia
1997 Patrick Artinian - Princess Diana's Funeral
1999 Afrim Hajrullahu - Ethnic Cleansing in Kosovo
2000 Frank Fournier - New Millennium, New York
2001 Kristen Ashburn - AIDS in Zimbabwe
2001 Lori Grinker - 9/11 Attacks
2003 Kenneth Jarecke - US/Mexican Border
2004 Stephen Dupont - Tsunami in Indonesia
2005 Stephen Dupont - US Forces in Afghanistan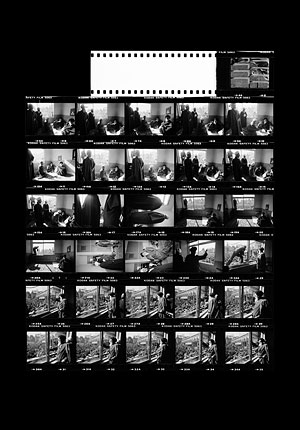 Contact Sheet - Ayatollah Ruhollah Khomeini and his aides inside the girl's secondary school turned revolutionary headquarters, surrounded by thousands of his followers, just after his return from exile after the forced abdication of Shah Mohammed Reza Palavi. Iran, February 1979. © David Burnett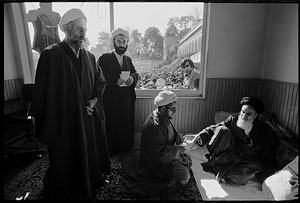 Exhibition rental fee:
• Contact Jeffrey Smith for fees.

Additional costs:
Transportation, insurance, publicity, posters, invitations and opening event are not included in the fee. The curator must be invited by each venue to supervise the hanging of the show.